Paintless Dent Repair in Milwaukee, WI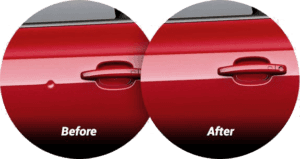 Honda City is the best place in Milwaukee for paintless dent repair for all makes and models. We know that minor dents and dings happen, and when they do you're often left debating whether to either let it be or filing an insurance claim to get it fixed. Why not let our expert staff evaluate the damage and in a lot of cases we can repair it with paintless dent repair.
---
How does it Work?
Our specially trained technicians use specific tools to apply pressure to either the backside of the damaged panel or in targeted areas around the dent to restore the surface to it's original form. In some cases, dents can also be popped or pulled out.
When Can It Be Used?
The most common forms of damage that are repaired with this process is hail damage or other small dents that occur when a vehicles outer panel strikes or is struck by an object. Some of the most common paintless dent removals we perform come from door dings, balls, car seats, and hail.
Schedule A Body Shop AppointmentAbout Our Body Shop