Honda HR-V vs Hyundai Kona

The 2022 Honda HR-V and Hyundai Kona both present fun features for drivers throughout Milwaukee, Greenfield, or Waukesha, Wisconsin. Could one possibly work better for your commutes? Let's find out in this Honda HR-V vs. Hyundai Kona comparison!
We're available to answer any questions here at Schlossmann Honda City. Contact us today!
---
Honda HR-V vs Hyundai Kona: Exterior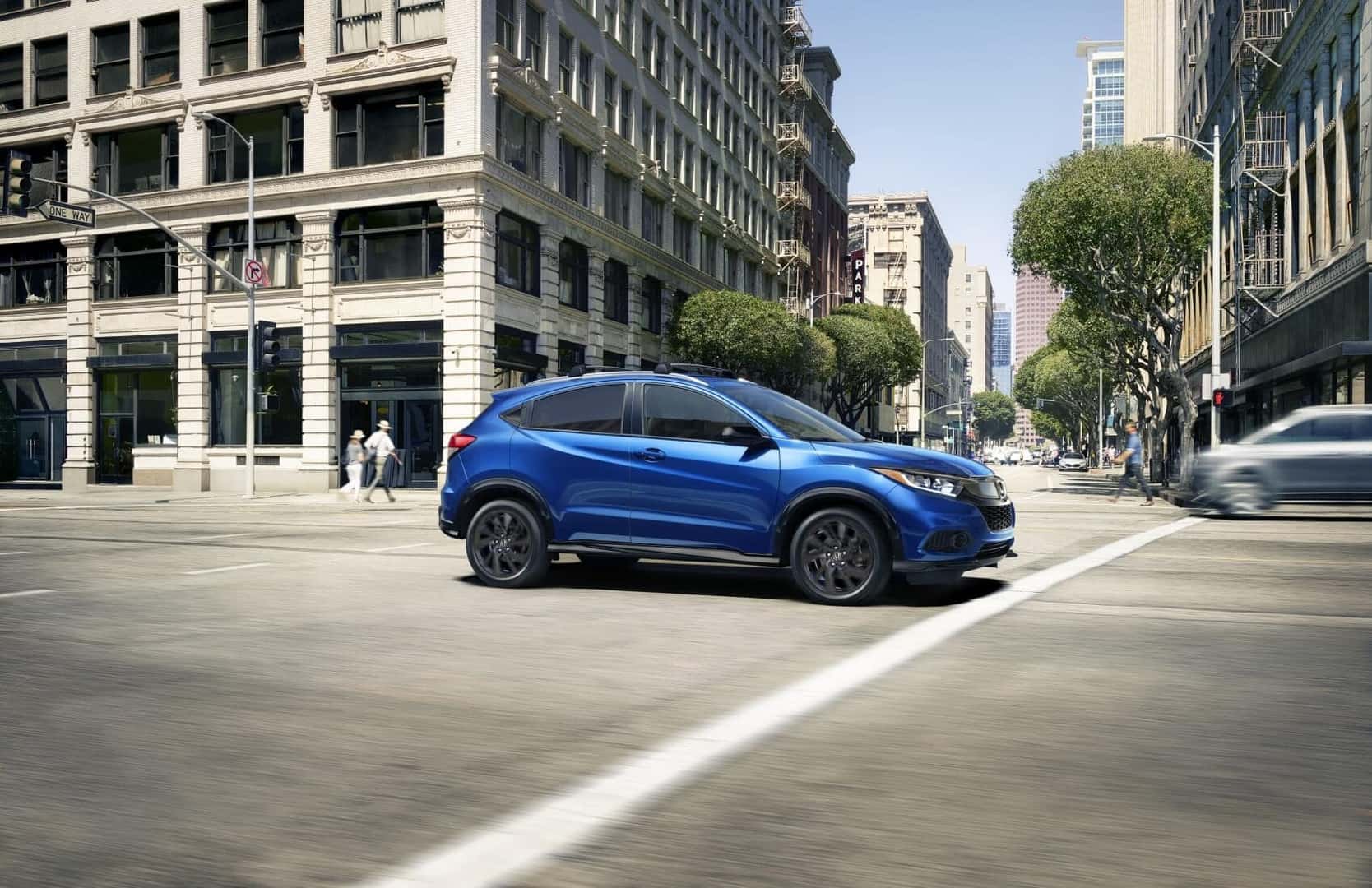 From the outside, the HR-V and Kona look pretty similar. They've got the classic crossover shape and a sturdy build that looks ready for any adventure. They even offer many of the same exterior colors to show off your style.
The Honda model, however, manages to look just a tad sleeker and a bit less bulky than its Hyundai counterpart. The HR-V sits higher off the road, and its 2-wheel drive version boasts a greater ground clearance of 7.3 inches compared to the Kona's ground clearance of 6.7 inches.
The HR-V goes on to include some added exterior features, like standard LED brake lights. The Kona offers LED taillights, but you'll have to upgrade to find them.
Honda HR-V vs Hyundai Kona: Performance
Both the HR-V and Kona are equipped with a standard 4-cylinder engine. Each engine delivers comparable horsepower (HP) and torque metrics, with the Kona edging out slightly. Below, you'll see what amounts are possible:
Honda HR-V—141 HP / 127 lb-ft of torque
Hyundai Kona—147 HP / 132 lb-ft of torque
These SUV models offer their own all-wheel-drive systems as upgrades. On the HR-V, you'll find the available Real Time AWD with Intelligent Control System™, while the Kona comes with the available All-Wheel Drive Active On-Demand System. They operate in much the same way and will provide boosted traction in slick conditions.
Both SUVs are also efficient. Much like their similar engine outputs, these models garner sufficient city and highway mileage to travel far. The HR-V, however, includes its unique standard Eco Assist™ System, which can help you drive more efficiently and ultimately save fuel.
Honda HR-V vs Hyundai Kona: Cargo Capacity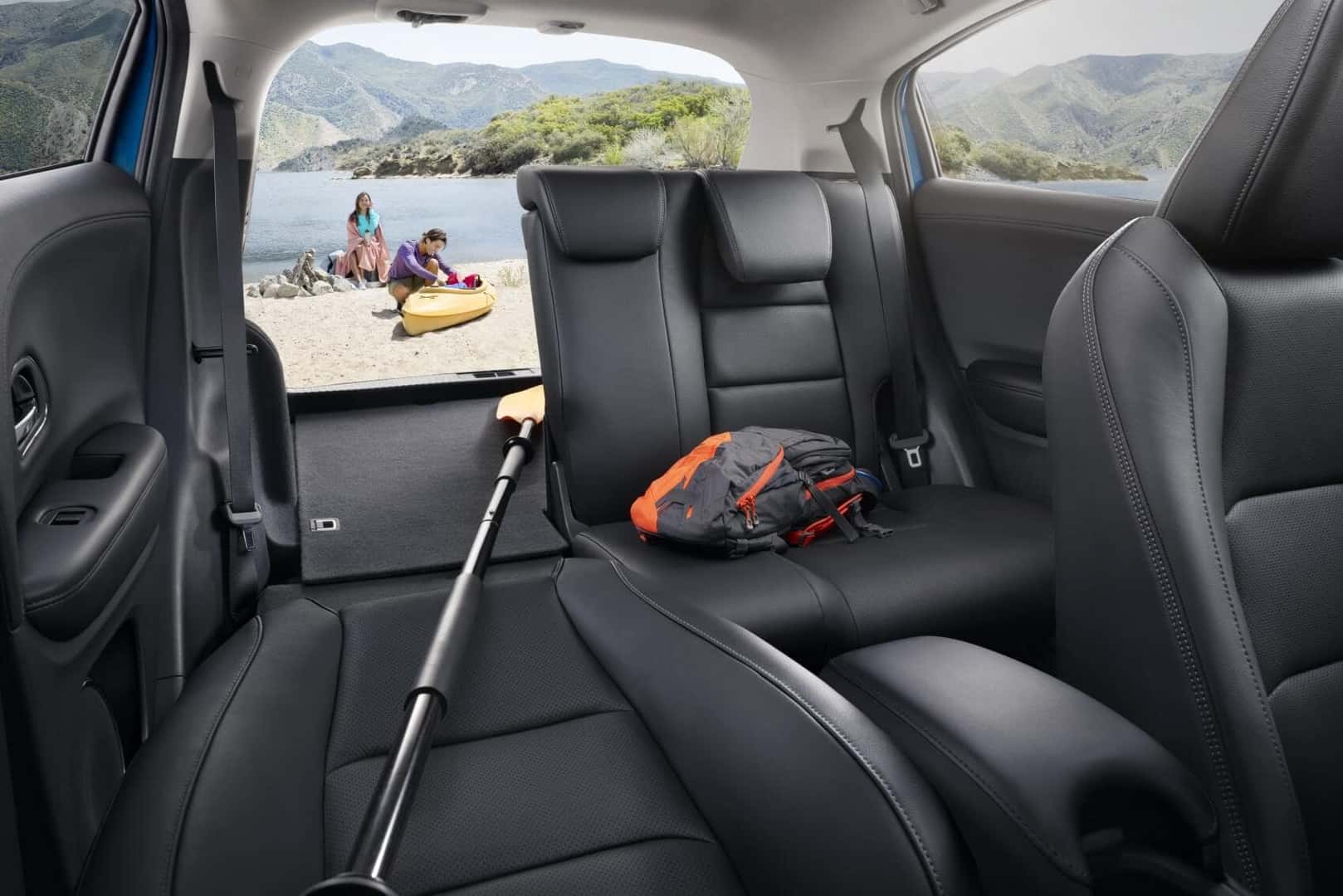 SUVs are great for cargo-carrying needs, as they offer a spacious spot to keep your gear secure. Both the HR-V and Kona feature a standard 60/40 split-folding rear seat that can make cargo storage feel more customized.
However, the Honda HR-V takes things a step further with this split-folding seat. Its standard 2nd-row Magic Seat® allows you to fold the seatbacks down for the maximum amount of space or fold the seat cushions up to have up to four feet of vertical space. The front passenger seat can even fold down for up to eight feet of horizontal space. Unfortunately, these unique seat styles aren't available on the Kona.
In addition to that unique rear seat, the HR-V offers more overall cargo space than the Kona. With the rear row folded down, you'll see the following maximum capacities:
Honda HR-V—58.8 cubic feet
Hyundai Kona—45.8 cubic feet
The same can be said when the rear row is up. The HR-V scores you 24.3 cubic feet, while the Kona only provides 19.2 cubic feet.
---
Which SUV To Select: The HR-V or Kona
With a sleek exterior appearance, efficient engine, and extra cargo space, the Honda HR-V manages to be more functional than the Hyundai Kona. We recommend this Honda SUV model for families throughout Milwaukee, Greenfield, or Waukesha, WI.
Contact us at Schlossmann Honda City today to schedule a test drive of the HR-V!