Honda Tire Pressure Monitoring System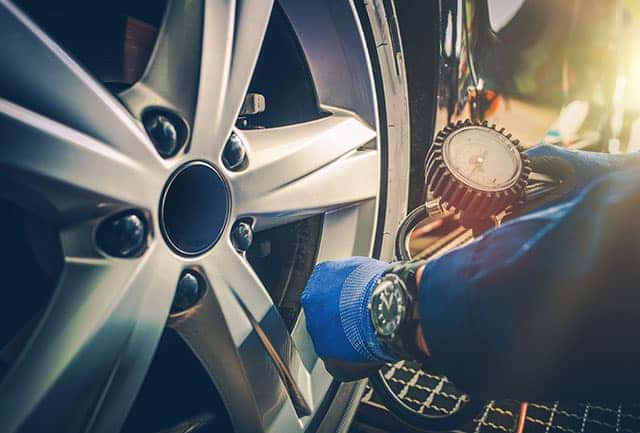 You've got a lot to keep track of every day, and, while it is important, the pressure in your tires is not likely top-of-mind for you as you're getting around Milwaukee. That's okay because your Honda has your back, with the Tire Pressure Monitoring System (TPMS) and Fill Assist. Your Honda makes it easy to know when it's time to fill up on air the next time you fill up with gas.
Tire Pressure is Important
While it may not be the first thing on your mind, your Honda's tire pressure is important. There are a number of issues that can affect your vehicle and how well it performs on the road with improper tire pressure. Perhaps most importantly, low tire pressure can affect your braking distance and the responsiveness of your steering. These can be key in an emergency braking situation.
The risk underinflated tires pose in an emergency situation is just the start. Your tires can cost you in the long run as well as the short run. Underinflated tires can wear out faster, meaning you'll have to relapse them more often. In extreme cases, the additional wear and tear on your tires could cause a blowout.
Finally, there's another long-term cost, fuel efficiency. The higher rolling distance means you'll get fewer miles to the gallon. Fuel prices are on everyone's mind, so ensuring you have properly inflated tires is another way you can make sure you're not paying more at the pump.
Honda TPMS
That's where the Tire Pressure Monitoring System comes in. Your Honda will inform you when one of your tires is low via an alert on your instrument panel. That way, you'll know when there's an issue and you can get it fixed. In addition, the available Fill Assist helps out again when you are filling up, altering you via the horn and headlights that you've sufficiently filled the tire! No more fiddling with a tire gauge, Honda makes it easy!
This handy feature is available on the 2016 (and newer) Pilot, 2017 (and newer) Ridgeline, 2018 (and newer) Odyssey, and 2019 (and newer) Passport.
Do you love this great Honda feature? Let us know on Facebook or Twitter. To get behind the wheel of a Honda with TPMS, visit us here at Schlossmann Honda City. We're your source near Milwaukee, WI for new Honda, used cars, and great auto service. Servicing with us is easy, you can make an appointment online! Want to sell your car? We're making great deals on trades! You'll see why Schlossmann Honda City is your Milwaukee car buying destination.