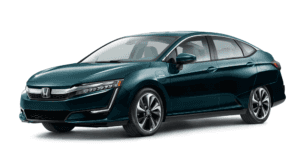 Two Ways to Fuel
Get the best of both worlds with the Clarity Plug-In Hybrid. Power through errands and day-to-day commutes by charging up and driving on pure electricity with the class-leading* 47-mile all-electric range*.
On days when your plans take an unexpected turn or you're taking a weekend getaway, the hybrid engine kicks in when the battery runs out so you can keep going for a combined gas-electric driving range rating of 340 miles*.
Plug-In Hybrid Savings
Rear 7/8 of 2018 Clarity Plug-in Hybrid in Modern Steel Metallic parked on driveway in front of residence with man unplugging charging cable.
With its combination of electric power and a hybrid engine, the Clarity Plug-in Hybrid can save you both time and money with fewer stops at the pump and less maintenance required.
Cut down on visits to the gas pump with the 47-mile all-electric range rating*, making it possible to take daily drives on electric-power alone. Your commute could even be gas-free.
Check out the new Honda Clarity Hybrid at Schlossmann Honda City today.