Oil Change in Milwaukee, WI
The most important routine maintenance your car needs is an oil change. Honda City services all makes and models and offers our oil change package with an oil filter, car wash, and multi-point inspection included.
---
Conventional vs. Synthetic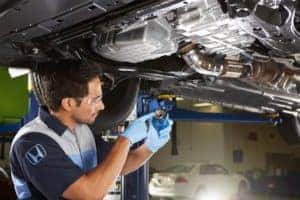 We're often asked what the difference is between conventional and synthetic oil. The biggest advantage to synthetic oil is that it breaks down much slower. Thus, keeping your engine safe for longer. With synthetic oils there is also additives to increase the temperature range it'll hold up to. This is especially important in performance cars or for anyone who drives at high speeds, where the RPM's of your engine tend to climb.
Synthetic oil is also recommended for drivers who live in colder climates, such as Wisconsin. During the winter months cars are subjected to harsher weather, colder temperatures, and rougher driving conditions.
Schedule an Oil Change
View All Service Specials
Honda Maintenance Minder
The Honda Maintenance Minder Indicator offers Honda owners an easy way to keep an eye on their engine oil life percentage. When service is needed, the indicator will illuminate in the gauge cluster to alert the driver. When the oil life percentage drops to 15% or lower, you need to schedule an oil change. With the help of the team at Honda City we'll also check your car for any other maintenance requirements which may include, tire rotation, fluids, air filters, and more. Our goal is keep your car running like new.