Schlossmann Honda's Favorite Burgers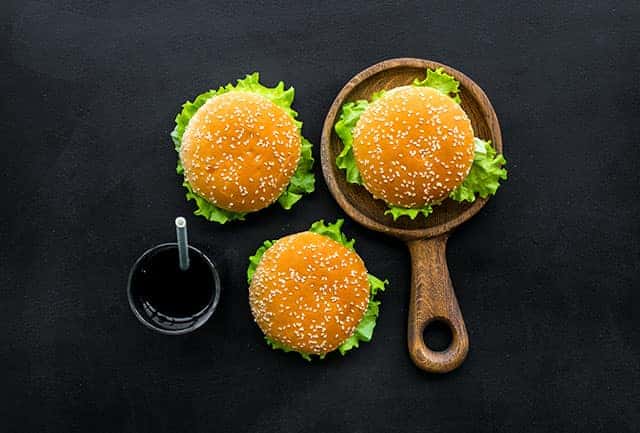 If you're looking for a great lunch destination in Milwaukee, let Schlossmann Honda City help. Like a lot of our Milwaukee neighbors, we know that there is not much that beats a fresh, tasty burger, especially to fill up at lunch. Everyone has their favorites, and so do we. Here are some of our favorite lunchtime destinations for a great burger. If you're in need of a fresh ride to get through the drive-thru, come see us at Schlossmann Honda City for a new or used Honda!
George Webb Restaruant
This is a great pick for a lot of reasons. There's probably one near you just like the one near Schlossmann Honda City is a regular destination for breakfast or our lunch hours. George Webb is a Milwaukee-born chain, so it's got the local flavor we love. The burger combos are great, and the Super George Combo is sure to hit the spot when your stomach is rumbling. The premium burger selection is there when you want something a little different, like a Mushroom Swiss or the Wisconsin Egg Burger. The menu has a lot of options if you're ever not in the mood for a burger.
Mazo's Hamburgers
This family-owned, local restaurant serves up exactly what we're looking for: burgers. It says so right in the name: Mazo's Hamburgers. You will not find a lot of exotic toppings here, just the basics, done right. The most exotic option may be the bacon cheeseburger, and that's fine with us because it's a really great bacon cheeseburger. You can pair it up with a malt or shake to make sure you're feeling full for the rest of the day.
Milwaukee Burger Company
Another local chain with a location within reach of our Honda dealership, the Milwaukee Burger Company has a great selection of fresh burgers that will satisfy almost any appetite. There's an array of options that makes us wish we had more room to try everything at once. The Cheese Curd Burger applies fried cheese to your cheeseburger and Frickle Burger fries up pickles instead. The Defibrillator is delicious, but it's nothing to take lightly (because it's two patties covered with chicken fried bacon). Grab an app or just save room for the burger, because you'll definitely need it.
Milk Can Hamburgers & Frozen Custard
We can't overlook the proud Wisconsin tradition of burgers and custard. That's exactly what you'll find at Milk Can Hamburgers & Frozen Custard. The burgers are great and so are the desserts. The cheese lover can't go wrong with the amazing Legendairy Burger, which features swiss, American, and cheese curds along with grilled onions and dijonaisse on a pretzel bun. It's not for the faint of heart or lactose intolerant.
What is your favorite burger destination in Milwaukee? Let us know on Facebook or Twitter. Then visit us here at Schlossmann Honda City. We're your source near Milwaukee, WI for new Honda, used cars, and great auto service. Servicing with us is easy, you can make an appointment online! Want to sell your car? We're making great deals on trades! You'll see why Schlossmann Honda City is your Milwaukee car buying destination.